Publications
Harris Lean Systems, Inc. has published several books, designed to facilitate the successful implementation of lean enterprise at your organization, including:
In the global marketplace, no business is a self-contained island. No matter how effective your internal material movement, to be a future-thinking business, you must go to the next step and develop long-term supplier partnerships built on a dedication to continuous improvement and the basic concepts of Lean implementation.
Lean Supplier Development: Establishing Partnerships and True Costs Throughout the Supply Chain provides step-by-step instruction on how to build partnerships of mutual improvement and success through supplier development. Offering the same advice that they have successfully applied to corporations across the globe, award-winning teachers Chris Harris, Rick Harris, and Chuck Streeter –
Provide criteria on how to choose suppliers that will make good long-term partnership
Demonstrate proven methods for employing Plan for Every Part (PFEP) to link your facility to the supply base
Present a true cost model that eliminates guesswork when choosing suppliers to develop
Show how to develop and maintain efficient information flow all along your supply chain
Use real-world examples to cover likely contingencies
Provide a sample quarterly supplier review that you can adapt for your own use
Lean is a journey, not a destination. It requires flexible leaders at the helm who can readily adjust to ever-changing conditions and it requires like-minded partners all along the supply chain. Finding and developing these partners is not about good fortune, it is all about an uncompromising approach to continuous improvement and the application of systematic methods that will build working partnerships that broaden your definition of what is possible.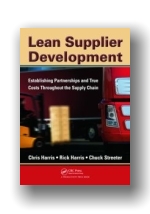 This workbook explains in simple, step-by-step terms how to introduce and sustain lean flows of material and information in pacemaker cells and lines, a prerequisite for achieving a lean value stream.
A sight we frequently encounter when touring plants is the relocation of processing steps from departments (process villages) to product-family work cells, but too often these "cells" produce only intermittent and erratic flow. Output gyrates from hour to hour and small piles of inventory accumulate between each operation so that few of the benefits of cellularization are actually being realized; and, if the cell is located upstream from the pacemaker process, none of the benefits may ever reach the customer.
This sequel to Learning to See (which focused on plant level operations) provides simple step-by-step instructions for eliminating waste and creating continuous flow at the process level. And like Learning to See and other LEI workbooks, Creating Continuous Flow is a Shingo Prize recipient.
This isn't a workbook you will read once then relegate to the bookshelf. It's an action guide for managers, engineers, and production associates that you will use to improve flow each and every day.
Creating Continuous Flow takes you to the next level in work cell design where you'll achieve even greater cost and lead time savings. You'll learn:
where to focus your continuous flow efforts
how to create much more efficient work cells and lines
how to operate a pacemaker process so that a lean value stream is possible
how to sustain the gains, and keep improving
Creating Continuous Flow is the next logical step after Learning to See. The value-stream mapping process in Learning to See defined the pacemaker process and the overall flow of products and information in the plant. The next step is to shift your focus from the plant to the process level by zeroing in on the pacemaker process, which sets the production rhythm for the plant or value stream, and apply the principles of continuous flow.
Learning to See teaches you about lean value streams, but you can't have a lean value stream without a well-functioning pacemaker process at the head of that value stream. Creating Continuous Flow dives deep into the pacemaker process, an extremely critical point for achieving your future state lean value stream.
Every production facility has at least one pacemaker process. The pacemaker processes is usually where products take their final form before going to external customers. It's called the pacemaker because how you operate here determines both how well you can serve the customer and what the demand pattern is like for your upstream supplying processes.
How the pacemaker process operates is critically important. A steady and consistently flowing pacemaker places steady and consistent demands on the rest of the value stream. The continuous flow processing that results allows companies to create leaner value streams.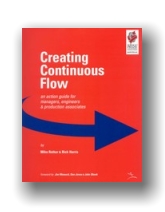 A Shingo Research Prize recipient for 2005!
Making Materials Flow describes in plain language another step in implementing a complete lean business system.
LEI's first workbook, Learning to See, focused on where to start – at the value stream for each product family within your facilities.
Seeing the Whole then expanded the value-stream map beyond facility walls, all the way from raw materials to customer.
After mapping has identified waste and potential applications of flow and pull, you can use the techniques in Creating Continuous Flow to implement truly continuous flow in cellularized operations.
Making Materials Flow takes the next step by explaining how to supply purchased parts to the value stream in order to support continuous flow.
"Companies are making progress in creating areas of continuous flow as more managers learn about value-stream mapping and continuous-flow cells," said co-author Rick Harris, who also co-authored the Creating Continuous Flow workbook. Both workbooks have received Shingo Research Prizes.
During visits to plants Harris has noticed an unsettling trend. "As I walk through facilities and examine earnest efforts to create continuous flow, I see how hard it is to sustain steady output. The problem often is the lack of a lean material-handling system for purchased parts to support continuous flow cells, small-batch processing, and traditional assembly lines."
Making Materials Flow explains in plain language how to create such a system by applying the relevant concepts and methods in a step-by-step progression. The workbook reveals the exercises, formulas, standards, and forms that a consultant would use to implement the system in your environment. And, like LEI's other workbooks, Making Materials Flow answers the key question managers often have about lean manufacturing tools and concepts, "What do I do on Monday morning to implement this?"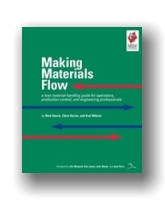 View Online
This resource:
Shows that a systematic method of training is needed to develop human resources into a lean-thinking workforce
Provides sample training sessions and explanations that you can use to involve and train employees right now
Shows the benefit of continuously training associates, whether they're newly hired or are getting trained in new areas
Involves all employees from within the facility as well as team and group leaders
Transform your HR Department into an Agent of Change during Lean Implementation. Changing an organization from a mass manufacturing environment to a lean environment is significant and affects all levels of the company if the implementation is done correctly. Many times, however, lean implementers become so involved with the nuts and bolts of lean implementation that the "people" side of the business is neglected.
With an HR perspective, veteran teachers Chris Harris and Rick Harris walk readers through a simple, step-by-step proven method for transforming a mass production workforce into a lean thinking one that possesses the necessary skills, training, and attitude to march in a new direction. They explain the role of human resources in a lean-oriented facility, emphasizing systematic training that continues for all employees. They also discuss the value of promoting employees from within a facility to team leader and group leader positions, and the importance of flexibility. This critically acclaimed book includes sample training sessions with explanations.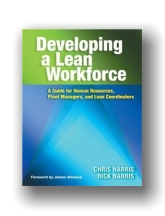 Achieve effective information flow through the extended value stream to the end customer. Dependable information flow is a necessary prerequisite to the successful implementation of lean production principles. But while most managers understand how to make materials and manpower flow, the flow of information tends to be much more underdeveloped. Even companies that excel at recognizing waste and are otherwise adept at implementing the principles of lean production are often challenged to provide satisfactory information flow.
Lean Connections: Making Information Flow Efficiently and Effectively is designed to help you rethink the way your organization views information flow. It provides the building blocks of a comprehensive information-flow system, showing you calculations and methods that will allow you to get the necessary information to those individuals who need it, when they need it.
Following a logical and detailed progression, this manual shows how to make information flow in lean production facility –
From the end customer through materials control to the production floor
On the production floor at the operator, team, and value stream level
And then from the production floor to the management of the facility
Employing a workbook format, this manual follows RNA Manufacturing, a fictional company, through its implementation of a comprehensive lean production system. As the authors outline RNA's methods and thought processes, they employ exercises that ask questions about your own production system. Your challenge is to think deeply about the answers, as well as the changes that need to be made to effectively make information flow through your facility.
Make certain that everyone gets the information that they need when they need it!